Periodontics
BOARD CERTIFIED PERIODONTIST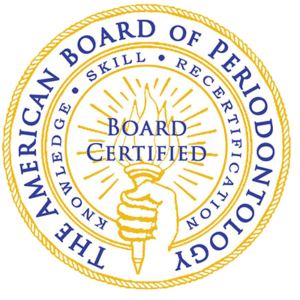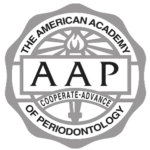 What is a Board Certified Periodontist and why are there so few?
A Diplomate is a periodontist who has made significant achievements beyond the mandatory educational requirements of the specialty and who is certified by the American Board of Periodontology.
To be educationally qualified for Board certification requires:
Certification as a dentist, including basic college education and completion of dental school to earn the D.D.S. or D.M.D. degree and;
Certification as a periodontist after successful completion of an educational program in Periodontology for an additional 3 years, which is accredited by Commission on Dental Accreditation of the American Dental Association.
Comprehensive qualifying and oral examination covering all phases of periodontal disease and its treatment, including dental implants.
Recertification every six years.
What is the Value of Board Certification?
To achieve Diplomate status, a periodontist has shown great inner motivation and exceptional commitment to continuing professional growth. In order to maintain board certified status, Diplomates must be recertified every 6 years with many hours of continuing education. A Board-Certified periodontist understands the importance of:
Achieving the highest level of knowledge and skill possible
Continually pursuing new knowledge and experience
Fully understanding and applying new research and advances to the practice of periodontics
Providing the highest evidence-based standard of care for patients
BONE GRAFTING
Most cases of periodontal disease are treatable using minimally invasive procedures, such as scaling and root planing or gum surgery. However, a periodontal disease that has been allowed to progress can result in deteriorated bone beneath the gums. When bone is destroyed by gum disease, it can no longer adequately support the teeth, eventually leading to total tooth loss. In these cases, a periodontist may recommend bone grafting – also known as regenerative surgery. During this procedure, a prepared graft is placed in the areas where bone should be, which encourages the body to rebuild the areas lost to periodontal disease.
Did you know…

that periodontal bone grafting is not just for advanced periodontal disease patients? In fact, more and more patients are undergoing bone graft procedures to gain enough bone structure to support dental implants. Bone beneath the gums naturally deteriorates following tooth loss. Bone grafting rebuilds these ridges and makes it possible for many patients to get permanent tooth prosthetics instead of dentures.
Frequently Asked Questions
Will I need periodontal bone grafting?
The only way to know if you are a candidate for periodontal bone grafting is by scheduling a consultation with your periodontist. An exam will reveal the condition of your teeth, gums, and the supporting bone beneath. Based on your evaluation, your periodontist will make a recommendation for treatment.
What should I expect during a periodontal bone graft treatment?
If bone grafting is the right treatment for you, you'll visit your periodontist's office, where you may undergo a scaling and root planing treatment to remove disease-causing bacteria and help prevent additional complications in the future. Prior to the grafting procedure, you'll be given a local anesthetic to minimize procedural discomfort and possibly sedated for your comfort. The gums will be separated from the teeth, and a graft placed near the underlying bone. A synthetic or organic barrier will be used to ensure the gums do not grow into areas the regenerated bone will eventually occupy.
Will I need to follow any special instructions following a bone graft procedure?
Yes. Bone graft surgery will leave you with sore and swollen gums, so expect to eat only soft foods in the days following your procedure. You may be given pain medications or antibiotics to be taken according to your periodontist's instructions. It may take up to nine months for your body to make new bone to fuse to your graft.
SINUS LIFT
Ridge and sinus augmentations are surgical dental procedures used to fill in areas of the gum line and underlying bone that have deteriorated as a result of tooth loss or extraction. Specifically, a ridge augmentation refers to the reconstruction of degenerated or underdeveloped gums, and a sinus augmentation refers to an enhancement of the amount and consistency of the maxillary jaw bone by lifting the sinus floor and grafting bone into the jaw line. These state of the art procedures are capable of restoring a natural appearance to, as well as making it possible for some patients to qualify for dental implants.
Did you know…

that tooth loss is not the only reason for getting a ridge or sinus augmentation? Many patients have deteriorated gum lines or inadequate jaw bone support caused by oral diseases, such as periodontal disease, or a physical trauma to the face. Others experience bone atrophy caused by prolonged denture wear. By grafting in bone and building up the gum line, a dentist can make it possible for a patient's jaw and gums to support permanent dental implants.
Frequently Asked Questions
Am I a candidate for sinus or ridge augmentation?
You may be a candidate for a sinus or ridge augmentation if you have been denied dental implants in the past due to inadequate supporting tissues. You may also qualify if your receded gum line is a source of insecurity or embarrassment. To find out more about sinus and ridge augmentations and whether you qualify, contact your dentist for a consultation today.
What should I expect during a sinus or ridge augmentation?
Ridge augmentations begin with the administration of a local anesthetic used to numb treatment areas and prevent pain. Graft material will then be placed into the tooth socket where the missing tooth once was. Your dentist will then pull surrounding gum tissue over the graft material and suture it shut. Sinus lift augmentations are similar, except your dentist will instead make an incision to expose the sinus floor and use hard graft materials to build up the sinus floor. The site will be sutured shut and allowed time to heal before additional treatments, such as a dental implant, are completed.
Will I need to follow any special instructions following my procedure?
It is normal to experience some swelling and discomfort following your procedure though these symptoms should subside within a few days.
GUM RECESSION
Your smile is an important part of your appearance. And though the size, shape and color of the teeth are most frequently associated oral cosmetics, the gums play an essential role too. When gingival tissues begin to recess, your teeth may look oversized and uneven. Soft tissue grafting is often used to restore the gum line using a bio-compatible grafting material that is attached to the gums to protect the tooth surface. The resulting augmentation produces restored dental symmetry and eliminates a 'toothy' smile.
Did you know…

that gum recession can be more than just a cosmetic problem? The enamel below the gum line is more prone to decay and tooth sensitivity when exposed. A receding gum line can put your long-term dental health at risk – potentially causing cavities, bone loss, additional gum recession, and even tooth loss.
Frequently Asked Questions
Am I a candidate for soft tissue grafting?
Generally, soft tissue grafting is recommended once the gingival tissue has reached the mucosa. However, you may be a candidate for soft tissue grafting if you have noticeable gum line recession that is a source of embarrassment, is a risk to your oral health.
What should I expect during a soft tissue grafting procedure?
If you decide to undergo soft tissue grafting, your procedure will take place in your oral health provider's office. The grafting site will be numbed, and the existing gum tissue will be loosened to make room for the graft. The grafting material is sutured in place, and you will return home the same day as your procedure.
How long is the recovery period following soft tissue grafting?
It is normal to experience some soreness and swelling at the grafting site after your procedure. However, this will subside after a few days as your tissue graft continues to heal. Be sure to follow your post-procedural guidelines exactly as ordered by your oral surgeon, and take any prescriptions as instructed. Sutures usually dissolve or will be removed within a few days, and you should notice a significant improvement in the appearance of your gums within a few weeks. Keep in mind, however, that soft tissue grafts take several months to completely heal.